Bulgaria - the cradle of Damascus roses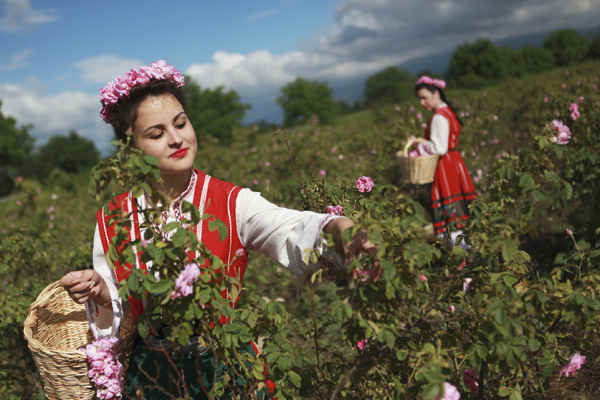 I invite you to travel to Bulgaria along the paths strewn with damascus rose petals!
Do you know that 1g of rose oil requires approx 3 thousand flowers!
You will also learn how stress stimulates, for the production of oily "tears"
And what oil from Damask rose, has benefits for body and soul.
Hello again, Dear Readers! Dzisiejsze podróże blog będą nam upływać pod znakiem upojnego zapachu damasceńskich róż. Zatem wszystkich miłośników tych szlachetnych kwiatów, I invite you to an enjoyable journey through Europe. I even dare to say, that along paths strewn with rose petals!
What corner of Bulgaria has become the rose region of the country.
Ścieżki podróżniczego blogu prowadzą nas do miejscowości Kazanlak in Bulgaria, which is considered the rose region of the country. Damascus roses may as well bloom in many other places around the world, but the secret is this, that this is where they smell best, and they give you much more oil, which pleases their caring gardeners. Flowers are harvested in the morning, because it is at this time that most of the oil is concentrated in rose petals.
For whom natural stress can be a source of "tears".
Contrary to appearances, nature can be stressful, which has been scientifically proven on the example of Damascus roses. Responsible for the phenomenon of high oil content in Bulgarian roses, jest ogromna różnica temperatur (in the order of a dozen or so degrees), between day and night. And these weather anomalies, they cause enormous stress on plants, which stimulates the secretion of essential oil. Dear Reader, wyobraź sobie by otrzymać 1 a gram of essential oil must be sacrificed until 3 thousands of damascus roses!, and to obtain a liter of this fragrant substance should be allocated until 3 tons of flowers!
How is the oil extraction process going?.
Traveling to these regions of Bulgaria, możemy być świadkami dużej ofiarności damasceńskich róż. Podstawowym sprzętem ustawionym w namiocie położonym na plantacji, there is weight. For here the bags are weighed, before they are loaded onto a truck and travel to the distillery. Already in place in dedicated large vats, flowers are warmed up. The resulting vapors travel through the cooling system, tak by olejek mógł się skroplić. Na końcu procesu czeka niepozorny kranik, który czuwa nad wypływającą drogocenną substancją o intensywnym różanym zapachu.
We owe the health of our body and soul to the Damask rose.
With a travel blog, we can prove the advantages of damask rose oil. It has a strengthening effect, regenerating, astringent and antiseptic. It has a beneficial effect on mature and sensitive skin, because it stimulates the production of collagen, counteracting the formation of wrinkles. W długie zimowe wieczory w sam raz na pociechę i osłodę może być herbatka z suszonych płatków róż. However, Dear Reader, the most wonderful moments come from the joy of looking at these wonderful flowers, and savoring their rose aromas. Damascus roses are admired, lecz znane są także na świecie holenderskie tulipany.
Perfume wrapped in the scent of damascus roses.
For the heart of these flowers is generous, and goes against the fair sex. Rose perfumes are what we are talking about, It is obtained from rose oil from Damascus rose as well as from the centifolia rose. For the sake of accuracy, the technique of obtaining it comes from Persia and then went to Arab countries and India.
Thank you very much to all Dear Readers for today's meeting with my travel blog. Next time we will go to a completely different continent, but let it remain a traveler's secret for now.
Thank you for being here, and please be as long as possible!
In the photo we see beautiful young women, dressed in beautiful folk costumes, when collecting rose petals. Probably they speak fondly to flowers, so that they don't feel too offended, that their valuable oil will be shared with others, although with the emphasis that with a valuable benefit to their health.