Holidays in Israel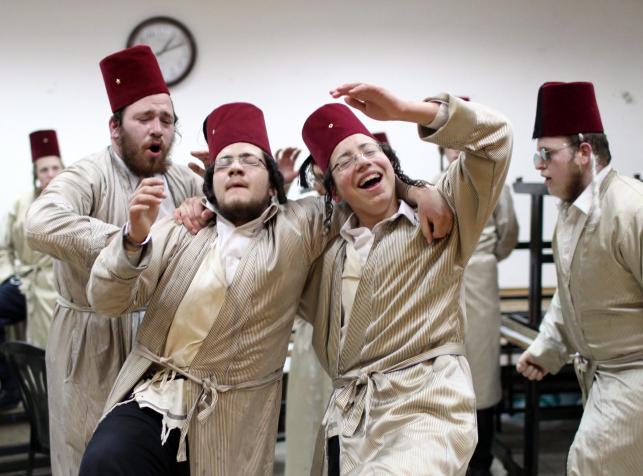 I invite you on a trip to Israel! Today on the blog:
Why on a Sabbath Saturday a Jew calls a gentleman to help light a fire in the oven ?
On the sweet "ears of Minister Hanama" eaten with appetite, as well as about decorating with the custom of Polish Easter, scallops made of pine twigs.
So be with us, because unforgettable impressions await you!

I cordially greet Dear Readers, and I am happy to invite you on a trip to Israel! Because today you will get to know the local holidays with a travel blog: colorful, sentimental as well as those commemorating the history of Jews.
Podobnie jak są hucznie obchodzone, so also holidays in Israel pass in a relaxed and joyful atmosphere.
Yom Kippur festival, where forgiveness triumphs and consent reigns.
This festive Day of Atonement, is celebrated by the people of Israel in January. Everyone then gathers in the synagogue (synagogue), to live together this extraordinary time of mutual forgiveness and forgiveness. There is a distinct one in the Jewish world podział na rolę kobiecą i męską. For the celebration of this holiday, women are gathered in the further part of the synagogue, and there are men in the front. Each participant must have something white, as a sign of purity.
Women usually cover their heads or shoulders with the pure white of lace scarves. The men, on the other hand, wear wide white penitential shirts. After the end of the celebration, everyone shakes hands, in order to forget all skirmishes, misunderstandings, discord. Since then, they have been trying to live well and in harmony.
Preparing the house and dishes for the celebration of the Sabbath Saturday.
It is also worth taking a look at the weekly preparations for this very family holiday with the travel blog. It runs from Friday evening to Saturday evening, and before that it is characterized by a storm of order, cooking and baking!
A great variety of dishes reigns on the table, a wśród nich wyróżniają się chicks, that is, cakes in the shape of braids, namaszczone błyszczącym lukrem dwa małe chlebki- challot, w wazie pyszni się rosół z makaronem, beans and hard-boiled egg. There is also a Jewish-style carp in a sweet and sour version, with the addition of raisins and almonds.
Uwagę zwraca także czulent which consists of beef, pearl barley and peas, Jewish caviar from chopped livers and stuffed goose necks. An important symbol of this festive day are two Sabbath candles, radiating its golden glow on the gathered people.
Sabbath Saturday- rest, celebration,
i zakazów przestrzeganie

.

When it's Saturday, wówczas jest time only to celebrate and read the Torah.

The admonition is quite radical not to make any physical exertion during this period. There are actually a lot of these bans, a wśród nich not allowed :
carry, even a handkerchief and a key so as not to carry it in your hand, is placed behind the watch strap!
can't cook,
can not sew, knit and crochet,
it is forbidden to drive any vehicles,
if it is necessary to use the elevator, then the electronic automat is programmed for the given floor,
if we need to use the oven, a goy should be asked for help (not a Jew).
On Saturday evening, men and women go to the synagogue separately, to experience this time even more under the dome of the holy place.
What Esther became famous for on Purim?
Traveling to this interesting part of the country, we can witness a joyful Purim holiday. It is celebrated in honor of Princess Esther, which freed the country from the cruel rule of Minister Hanama. To emphasize the merits and gratitude to the liberator of the country, children dress up as her, and in the synagogue books are read about her brave heart.
It is a common day all day long zwyczaj wzajemnego obdarowywania się słodyczami, through selected messengers. Children also eat cookies that resemble Minister Hanama's ears. In a word, there are many reasons for joy, it's fun, loudly, colorfully, and both children and adults to the flowing sounds of the violin, świetnie się bawią
.
When the Sukkah festival comes, a colorful hut will arise.
Another name for the holiday of Sukkah is- Sukkot or Sukkot, and it was born in remembrance of the Jews' stay in the desert. Jego obchody przypadają na styczeń w języku żydowskim tiszrej, that is the first month of the New Year. To celebrate this day, residents on their balconies, they build huts made of pine twigs on their terraces or in the garden.
We associate the month of January with the winter season, but there is no fear in Israel for nine months of summer! When the hut is ready, then it's time to decorate it with colorful eggs, and rainbow ribbons. The time spent there is for prayer, reading the Torah, reflection and spiritual development.
And now it's time for a perfume experience.
In today's travel corner of the perfume, I found some interesting plants, which delight with their scent and willingly enrich perfumes. Geranium opens this floral heart note, with a fresh floral scent, close to rose water. Right behind her, Cardamom, which is a plant similar to ginger, asks for attention, i obdarzający perfumy nutą owocowo- spicy. Patchouli is also of interest, classified as perennials or shrubs, whose stems and leaves have a sweet-earthy smell, developing over time. You should also remember about vetiver, in the form of a grass root with resinous and powdery accents.
Thank you, Dear Reader, for your interest in today's topic, time and attention. Best wishes, and I invite you to the next blog travels, in which I will tell about the life of a traditional Jewish family. Please remember about us!
The photo shows the celebration of the Jewish Purim Festival, which traditionally brings together an Israeli family, when eating together. The Jewish people are very family oriented, and makes sure that the most important celebrations are lived, being together.