Krabi Thailand - a paradise for climbers and slackliners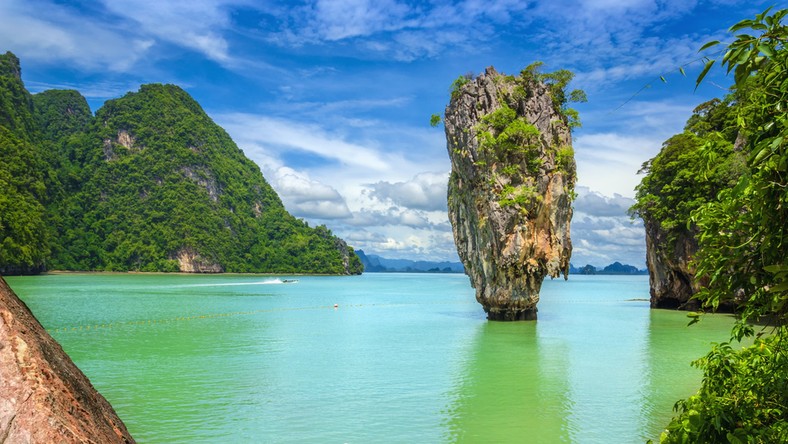 Krabi Thailand - a paradise for climbers and slackliners.
Krabi is one of the most popular neighborhoods in Thailand. Deservedly, because it is also one of the most beautiful.
Picturesque beaches with pure white sand, calm blue sea, limestone rocks emerging majestically from the water and the sky without a single cloud.
Most of the postcards from Thailand are pictures from Krabi.
Krabi is a bit less popular than Phuket so it is also not that expensive. Both foreign tourists and Thais who actively spend their holidays come here.
Most of the tourists do not stay here for long. They stop at some of the most popular beaches and take advantage of their beauty and fact for a while, that the coast is much cheaper than the surrounding islands.
Krabi, on the other hand, offers much more than just a holiday in crowded resorts. However, you need to know what you are looking for.
What Krabi offers?
Starting with amazing tours of national parks, bathing in waterfalls and hot springs, by simply lying on the most beautiful beaches of Thailand, ending up climbing with breathtaking views.
Welcome to Krabi!
National parks.
Each of the parks offers more and more interesting attractions. First, Khao Phanom Bencha, is located closest to the city center. He is only away 15 km and gives us the possibility of a trip to a stream with waterfalls, under which you can swim. Amazing impressions!
On the way to the park there are 2 small caves inhabited by various species of bats. The caves are unguarded and are suitable for leisurely exploring alone, a good flashlight is enough. It is impossible to get lost because after some time the tunnel becomes too narrow to squeeze through.
Most people don't bother straying out of the way just to see two average caves, thanks to this, the place is quiet and empty.
Entrance to the park costs 100BHT, ​​which is approx 10 PLN. It's a lot for Thailand. Personally I think, that's very good, it scares away those who need to be.
The second park is a long trail along lowland forests. It is full of warm springs also with countless waterfalls, small and large. In this heat, not very encouraging, but an evening spent bathing in such a stream is certainly not a wasted evening.
The park is called Khao Pra-Ban and it is located 50 km east of Krabi Town. It is worth renting a scooter and going there for the day. Additionally, rare bird species such as Gurney's Pitta can be seen in the park, Rufus Kingsfisher or Black Hornbill.
Camping is allowed.
Beaches.
The most famous beach in Krabi is Railay. Yes, she is beautiful, but filled to the brim with tourists, I would say of a different nature. Who likes what, definitely worth seeing. The same goes for Ao Nang and Nammayo Bay.
But now the most important thing.
What I want to pay attention to is Ton Sai Bay.
Place, which I managed to find thanks to the kindness of two travelers I met in Malaysia, who once drew a map for me on a napkin in some bar on how to get to Ton Sai.
Of course, I lost the map, but I remembered the name and luckily!!
Why Ton Sai is Great?
#1 Climbing
Well, if you are a climber or slackliner then Ton Sai is just for you. (and you may have known about this place a long time ago?)
Ton Sai is a bay surrounded by high limestone rocks that are part of the world's largest coral reef, stretching from China to Papua New Guinea.
There you will find countless great roads, starting from 6a to 8c. The choice is huge and everyone will find something for themselves. Experienced climbers don't have to worry about beginners hanging limp from the rocks.
Additionally, it is possible to try deep water solo, where you start climbing bare rock straight from the boat.
All equipment can be rented on site, you have to be careful with the choice because unfortunately they do not always offer high-quality equipment. Prices vary depending on the state it is in. Fair enough.
It is also possible to borrow a guide with roads, however, it is worth stocking up on yours, because it is often missing in stock.
If you plan to climb more in Thailand, Rock Climbing Thailand and Laos is said to be the best.
Of course, it is also possible to buy courses or hire a guide.
And if you come alone, just like me, it's no problem to quickly organize a partner with similar skills to yours. One beer at the Ton Sai beach bar is enough and you already know the enthusiastic group.
You can meet various climbers here, the famous ones, those who want to be famous and the lost hippies. With whom, however, you will not spend time, I can guarantee, that you will not be bored.
Why this place, and no other is so amazing?
Because when you climb, you have one of the most beautiful views you can imagine.
Azure water, invitingly sparkling in full sun, countless islets and rocks growing out of the water, plying wooden boats and the refreshing blue sky. Anything else is needed?