Hampi Monkey Temple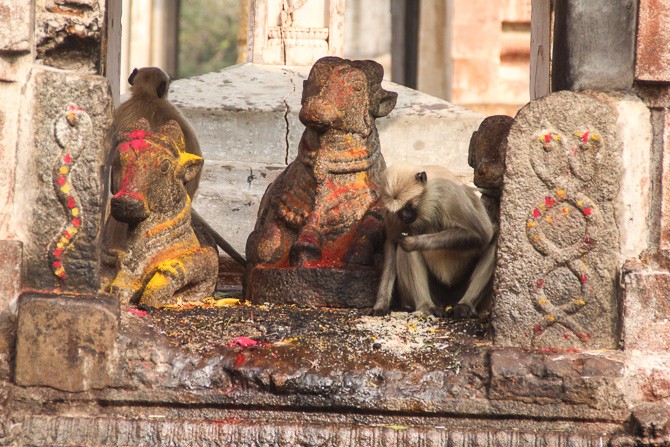 Hampi Monkey Temple is the place to be, which you definitely need to visit. It is located at the top of the Anegundi Anjanadri hill, from which there are breathtaking views.
Its real name is the Hanuman Temple.
Hanuman is a Hindu god and an ardent devotee of Rama. He is the central figure in the Indian epic Ramayana. Some texts portray him as an incarnation of Shiva.
The Anegundi Anjanadri hill is said to be the place where Hanuman was born.
According to one theory, the name Hanuman comes from a word meaning a male monkey. Hanuman is the god of monkeys, so that would be right. Additionally, taking into account the number of monkeys, which are encountered on the way to the top ...
The whole area is inhabited by their herds. They are everywhere and there are a lot of them, a lot. Throughout their wanderings, they constantly hitch and beg for food. Sometimes they even bite!
The way to the top takes over an hour and leads through hundreds of granite stairs. Despite the monkeys still disturbing you, it's worth it. It's worth it!
View, which appears to us is one of the most beautiful I have ever seen in South India. Rocky hills to one side, on the other patch of rice fields and on the other - coconut plantations and beautifully stretching ancient ruins of the temple complex in Hampi.
When you look at the ruins from here, you realize why the ancient priests chose this place to build their temple and capital.
Huge rocky hills are everywhere. The mighty Tungabadhra River flows between them. Such an environment created a strategically perfectly isolated point.
I went to the summit in the afternoon and got there before sunset. I liked the sunset so much, that I even considered staying until sunrise, however, the amount of monkeys around put me off the idea.
The problem is that, that the monkeys are constantly trying to steal something. They are just waiting for an opportunity when your vigilance decreases and then they will tear your bag or backpack away. Of course, their intention is to eat, still it's not nice. They are not cuddly pets, they are aggressive if you get angry.
How to behave among monkeys?
There are a few rules, which must be observed when near a herd of wild monkeys. Most people get so excited when you first meet them, that he forgets, that they are wild animals.
Rule no 1
The first rule is never smile at a monkey.
Why?
Showing teeth is perceived by a monkey as an expression of aggression. Which is actually logical. Most animals, when they show their teeth, are threatening themselves rather than conveying the message "hey bro, we have a great day!"
Every time I meet a herd of monkeys, and among them the lost people are everyone, literally everyone smiles! And then cry, that the monkey took the purse ...
Rule no 2
Never feed a monkey. Don't give them food!
Every time you do this, you get them used to it, that man = food. So they begin to identify everyone with food. A, they are very intelligent bastards they learn very quickly.
Once it happened, that while walking, one of the monkeys snatched a net with bananas from a friend. And I mentioned to him before, "Man, hide that net with bananas", he did not take Aunt Olga's advice. He lost a kilo of bananas.
Rule no 3
Do not touch or put on your hands.
For some, monkeys are cute (I do not understand, as for me it's meddlesome, creatures too human-like, with a very intelligent look, which makes it slightly scary).
Seems, that if they get so close, they are harmless.
Error!
When they get angry, they bite. And gingerbread knows whether or not they transmit any diseases.
What could be hidden in the monkey's saliva?
The first one comes to mind RAGE.
Nasty, fatal disease. Contrary to appearances, you do not die from rage, but from respiratory failure.
Herpes, tinea, any jaundice. Nasty things.
It is better to avoid close contact with monkey body fluids.
Uh, it sounded like that.
So let's go back to the temple.
The doors of the temple are always closed, to prevent the desecration of the site by the aforementioned nosy monkeys. (Despite the, that it is a temple in part in their honor). Before reaching the top, you need to take off your shoes. A sign of respect.
Anyone who is human can look inside. It is enough to remember the basic label. The priest can offer holy water and vermilion, colored powder to make a dot on the forehead. There is no entrance fee. However, you can put a few coins into the hundi, donation boxes.
The Hanuman icon is carved on the temple wall. There is also a small icon in honor of Rama and his spouse.
Priest with a white beard, mędrzec hinduski, the so-called pundit continues to tell the story of Hanuman. Obviously in Hindi, however, you can sit down and listen. Despite, that you do not understand anything, his voice is strangely soothing.
How to get to the monkey temple?
It is located approx 5 km from the center of Hampi.
First you have to cross the river. The main passage is on Virupapur Gadde near the Virupaksha temple.
The best way is to rent a bike or scooter and drive to the foot of the hill. There are places to park. There are several stalls nearby where you can buy water, chai and snacks. There are no shops or stalls upstairs, so make sure you have enough water. And in this heat it is essential!