Tofu - soy cheese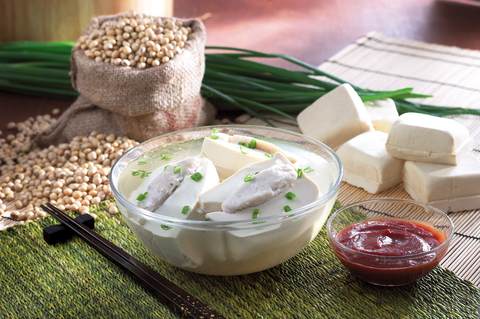 Dear Reader, I welcome you again with joy in my heart! Staying in the circle of culinary experiences, worth presenting is tofu - soybean cheese, which decorates Japanese tables. W odróżnieniu od ryby fugu jego całkowite pochłonięcie jest zupełnie bezpieczne i może jedynie skutkować zdrowiem.
A hint of delight for gourmets.
The travel blog obtained valuable information, that tofu - soy cheese is obtained in the coagulation stage of soy milk. The first country, who produced it in 164 China was the year AD, and they "baptized" it with the doufu label. This product came to Japanese cuisine in the second half of the millennium AD and took the name of soy tofu cheese..
Quick preparation, freshness preservation.
Tofu- soy cheese is popular among gourmets from the Land of the Rising Sun and is a traditional ingredient of many oriental dishes, those based on meat, as well as vegetarian dishes. The most interesting thing about it is, though it's hard to find tofu- It supposedly captures the taste of the dish with which it is composed. Its subtlety and fresh texture can be brought out right after its preparation. Tofu consumption begins- Soy cheese is not easy for everyone, especially for those, who follow a meat diet and like spicy foods, though incomparable to the courage a volunteer must show to eat fugu fish.
You want to be healthy, eat soy cheese.
Persons, who opened their hearts and liked the taste of tofu from the very first bite- soy cheese can only benefit from its nutritional value. Tofu- soy cheese is a rich source of wholesome protein as well as vegetable unsaturated fats and a bunch of vitamins from the "B" and "E" groups, minerals, calcium, potassium, Phosphor, sodium. It is low in calories and also contains choline and lecithin, which preventively protect blood vessels against cholesterol deposits.
Commentary to the attached photo.
The photo shows the main character of today's blog, or tofu- soy cheese with additives, which together with it will create an unforgettable culinary feast.