Traditional Chinese wedding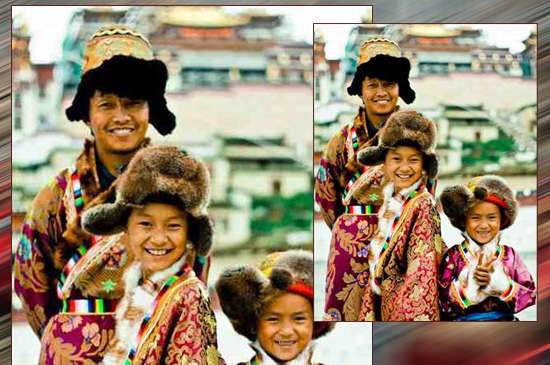 Today about the original wedding rite in China. Do you know, that the Groom jumps in and then jumps off the pile of quilts, what is considered a wedding moment - find out more!
Hello dear readers, i zgodnie z obietnicą zapraszam na drugą część podróży do tradycyjnych Chin, and get to know interesting wedding rituals this time!
Dowiecie się także jak nazywały się dni poprzedzające zamążpójście i czym się charakteryzowały oraz czy zamążpójście zawsze oznacza wkroczenie na drogę szczęścia?
Preparing for marriage- Sitting and Singing Days, Days of Sorrow and Anxiety and Days of Rice and Salt.
Following the trail of a travel blog, the next step on the path of life is getting married. As I mentioned before, they were arranged and a relevant contract was signed six years before their conclusion. During this period, the young girl was prepared to play the role of a wife.
Learning started from Sitting and Singing Days. At that time, future wives learned to sew and embroider: Clothes, bed linen and shoes for myself, future husband and his family. She also acquired knowledge about housework and women's secret writing( for the record, the men had their handwriting).
Then they came at the right time Dni Smutku i Niepokoju w których cała rodzina dziewczyny zawodziła że musi ona opuścić dom. It was explained by the command of tradition that a woman acquires values ​​by becoming someone else's wife.
Z kolei w słusznym czasie nastały radosne Rice and Salt Days kiedy to okoliczni sąsiedzi odwiedzają jej dom, they talk and sing. At that time, in order to welcome the guests, the future husband's family sent the girl numerous gifts: sweets, meat, money and bales of cloth for a future dowry.
Time for the ceremony- beautiful wedding moment.
Znacie zapewne tradycyjną ślubną ceremonie w Japonii a teraz Drodzy Czytelnicy poznajcie jak wygląda ona w Chinach – ta uroczystość odbywa się w domu Pana Młodego i jest bardzo oryginalna o czym sami możecie się przekonać. Thus, in the middle of the large room there is a table on which several quilts are placed, and right on top of them are placed two cups with wine wrapped in a red and green ribbon. Then the Young Couple reaches for them, po czym rozochocony The groom jumps on himself and then jumps off the pile of quilts, what is considered the moment of the wedding.
Was the life of a young married woman full of roses??
Po trzech dniach od zawarcia związku małżeńskiego żona udaje się do domu rodzinnego. She will stay there until the birth of her first child a męża będzie odwiedzać zaledwie kilka razy w roku. It will come with the food, because her in-laws will provide for her support only when she lives with them permanently. Young married women often complained that they were mistreated by their mother-in-law who made them work hard and treated them as servants. They dreamed then of having a son in order to appease their mother-in-law and gain a bit of her favor.
Just like birthdays are part of life, so is the departure.
After death, a man wraps himself in a shroud and the closest family says goodbye to him on their knees, burning his clothes at the grave, notes and money. These activities serve to ensure that he does not run out of anything in the other world.
Natomiast kiedy a girl will die before marriage, then people are afraid that out of loneliness she will want to bring someone from the living, yes for the company. To prevent this from happening budowano tzw. flower tower. It was a small one-story building, richly decorated with flowers, and inside it resembled an ordinary house. There were figurines of her relatives and friends. There was paper and ink on the desk-shaped furniture, so she can write on it. When the house is fully ready, then zanosi się go na cmentarz i pali dla zmarłej, to bring peace to her soul and at least a little light up loneliness.
I think life is like a rainbow, it has a beginning and an end, though if we live it well, wówczas z pewnością będzie jak jej uśmiech
.
In the world of perfumes.
So it's time to pay attention to the world of cosmetics, because thanks to plants growing in China, such as patchouli and vetiver, it is significantly enriched by them. And so patchouli is a shrub- perennial, and its scent is opened by the stems and leaves which release a herbal and earthy note, over time, striving for development. The vetiver root, on the other hand, gives perfumes a sensual spicy scent, brushed with a powdery accent.
Dear Readers, thank you very much for your invaluable attention and kindly invite you to travel with the blog! Następnym razem opowiem o Chinach ale tym razem odniosę się do współczesności.

The photo shows a nice and close-knit family, arrived at Songzanlin-Chaitya Square, in Yunnan Province. The father took his children to participate in chaitya. The situation is different with the number of children you have in the countryside, where more hands are needed to work. An unwritten law allows a slightly larger family. The situation is similar in the south of the country, who live in ethnic minorities (Hui, The Mengs, Manga, The Zangs, Tibetans). These communities may even have several children to ensure continuity for the next generation.