CINQUECENTO AFTER AFRICA From Krakow to Dakar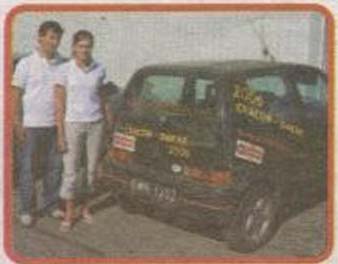 CINQUECENTO AFTER AFRICA – From Krakow to Dakar.
Young Cracovians – Jolanta Czupik and Dominik Stokłosa, are people with quite curious characters. He wears them all the time and it wouldn't be surprising, if not for the fact, that they make their travels in an old Fiat Cinquecento. Though it had clicked on its counter recently 300 thousand kilometers (and without renovation!), the perky "nine hundred" efficiently coped with the wilderness of Africa.
– We came back from Africa last week, we were in Asia before – is enumerated by Dominik Stokłosa. – Our cinquecento endured all trips very well. All in all, you can say, that it is an all-rounder: road, off-road, and it can swim across rivers.
After returning from Africa, the meter registered 340 thousands of kilometers of mileage, wherein. according to the assurances of Krakow travelers, the engine does not need any renovation all the time.
– During the trip to Dakar, we defeated 22140 kilometers – says Jolanta Czupik. – The whole journey took us 48 days, and during this time we visited 9 countries.
– The biggest problems – Dominik Stokłosa wonders. – I guess it's a waste of fuel. From the Western Sahara we could only buy leaded gasoline, with an octane number of not more than 80. In addition, on the way, our paw holding the engines broke the radiator fan. Especially the latter fault was extremely troublesome in hot Africa.
Although Jolanta and Dominik already had several offers to buy their beloved vehicle, for nothing in the world they don't want to get rid of it. – In Dakar, a wealthy Senegalese man wanted to give us money for him 3 thousands of euros – recalls Mr. Dominik. – However, the car is not for sale: we got too close to him. Besides, we have travel plans…