Koh Phi Phi Ley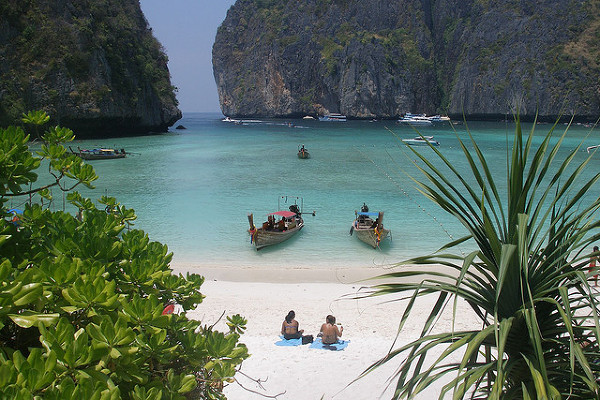 For some time I have been living on a paradise island with a sonorous name Koh Phi Phi Ley.
Hardly anyone knows this place, because it is one of the most partying islands in Thailand.
Gates to Hell, an abode of evil powers and an ocean of immoral temptations.
But I will share my opinion about the island another time.
Today is another adventure.
I got into it, as usual, completely by accident.
One hot afternoon, I sat at the bar sipping an iced coffee, which Thailand is famous for by the way.
Of course, on Koh Phi Phi for double the amount you will get half the quality, but this is just a minor snag.
And so without thinking about anything special (oh how much i like these moments) a local employee spoke to me.
So I got into an interesting conversation and even others joined in. We began to consider interesting things to do on the island, apart from spending money mindlessly at the bar.
In this way, I arranged a kayak trip with the people I met. Night trip, before sunrise. So, to reach my destination before the immoral tourists start arriving, looking for a secluded piece of beach, where they could start their shameless games.
The purpose of the trip was Loh Lana Bay and snorkeling in the local cave.
When Fr. 5 in the morning the alarm clock rang, disgusted, I turned it off hastily and began to consider staying in my comfortable bed after all.
Who gets up Fr. 5 in the morning to take a canoe to some secluded place?
I thought, Oh yes, who, if not me.
So I got up quickly, I put my bikini on and ran out into the dark night.
Of course, some people did not show up, which didn't surprise me at all. Employee, who initiated yesterday's conversation was the first to appear holding in his hand what was to be a special waterproof bag for all kinds of electronic equipment.
Satisfied, I threw one of my three most valuable things into that bag. My beloved camera, with whom I have already decided to never part with.
In this way, I trusted a stranger. By giving him almost a part of my soul. (Oh yes, i love my camera so much).
We prepared the canoes and set sail.
As a rowing partner, I got a very nice girl from Germany. Just as talking to her gave me a lot of entertainment, yes, her rowing style left much to be desired unfortunately.
I paddled for two practically all the way, not to mention her, that she should dip that oar deeper and put a little more force into it. After all, I didn't want her to feel sorry.
Rowing in the dark is not an interesting thing. In fact, you can hardly see anything so instead of admiring the view, you are left only alone with the oar and heavy effort.
And thoughts full of remorse - well, like this? How it's possible, that I no longer have the strength?!
Halfway up it started to dawn, and suddenly everything was somehow more attractive.
Beautiful limestone rocks began to show in all their glory. Lazily emerging from the calm sea. Their sharpness contrasted with the smooth surface of the sea water.
The deep blue of the sea looked so beautiful, that it's artificially. At one point I stopped rowing and touched the water to see if it was real..
Wow, I'm really here!
We reached our destination. The tiny cove still lay in shadow as, that the sun was rising on the other side of the island. Everything looked lovely and it promised to be, that we will see really interesting things under the water.
We threw the kayaks on the shore and the first thing, I wanted to take pictures of course.
So I started looking for a bright bag, shouting at the sharp question "where is the bag?"?!"
And at that moment, the terrible truth struck me.
The bag is gone.
My heart started pounding like crazy! My camera!! My child!! Where is it?! My most precious thing!
I kept my chin from shaking involuntarily ...
And suddenly I felt an attack of aggression mounting.
To on! I turned to the poor boy, owner of the bag.
Feeling my growing anger gives me confidence and literally walking towards it, I feel my eyes grow.
And he is decreasing ...
Fortunately, he understood without words, that the situation is endangering his health. Without a word, he jumped on the canoe and swam back to look for the bag.
At that time, I stated, that I have no choice but to wait.
A, that idle waiting is one of my least favorite activities, I decided to go diving and look at the underwater world.
The underwater world turned out to be extremely mobile at dawn.
Various species of fish in the great buoys moved quickly along the bottom, like on a busy highway.
Strange creatures of various colors, bizarre shapes, dotted, ribbed, with big bulging eyes and concave little looking pinheads.
And they were not afraid of anything!
They swam alongside you without any stress, at your fingertips.
And when I saw a little bright green fish with blue dots, flowing right next to me, so beautiful, that until my heart was filled with transcendental joy I felt it, that I could start farting with the colors of the rainbow.
And I completely forgot about the missing camera.
Of course, the transcendental joy also ends. I decided to abandon the idea of ​​the rainbow and let the underwater world live in peace.
I went ashore and started to wonder what he was taking so long. Why isn't he here yet? Could my camera be lost? Could the guy get scared and run away?
I sat alone on the beach and considered various ways of punishing the individual. If I ever see him again.
Of course, I was aware, it's not just his fault.
First, I should never have given away my precious thing.
A po drugie, I shouldn't have trusted a new person completely.
Nevertheless, I still had a feeling, that such distraction and thoughtlessness should be punished.
And while I was thinking like that, taking into account various types of torture, I felt cold.
The beach was still shaded and the stillness and a slight gust of wind caused it, that I was a bit chilled.
So I started looking for a possible occupation and noticed, that the rocky left bank is full of stones with names written on them.
So I found a smooth stone and wrote my name as well, and to seal my significant presence in this noble place.
As if it would change something.
Anyway. While I was playing like an elementary school child, my companions still admired the underwater world.
At some point, one of them decided to swim into the cave, which turned out to be a hopeless idea.
Despite the, that the sea was not rough, light waves were strong enough to throw a companion against the cave wall.
It tugged quite well, the fresh bleeding wounds didn't look interesting.
Our moods have significantly spoiled.
So the three of us waited for the guilty master, who at this very moment began to appear to us as our savior. He will come on a boat with a yellow bag and my camera will happily be in it, we will all get together, We will throw the kayaks on the deck and we will happily go to where we came from.
Of course, the story turned out quite differently.
We waited and waited, until we finally started to wonder if this might be some kind of a hidden camera joke?
Leave it 3 silly women in the wilderness and see if they can handle it? What will they come up with? Or maybe they will start arguing? Or maybe a shark will eat them?
Such strange ideas started to circulate in our heads when we suddenly heard a growling sound of the engine.
The boy will come on the boat and with a smile from ear to ear he was waving the yellow bag at me.
Stone fell from my heart!
I hugged my camera against me and swore, that I will never leave him again.
I took pictures of the cove and while I was thinking, that we will all pack on the boat and sail into the blue distance, the boy took one canoe and waved us cheerfully.
My, shocked, we didn't even wave back.
So we will have to come back on our own.
Rowing.
Such a joke.
In addition, the three of us in one overloaded kayak ... koh phi phi ley
Loh Lana Bay is located in the north of the island. It is charming and it is worth going there to dive in peace or simply to lie on the beach away from the mass of tourists.
It is not possible to go on foot. There are too many rugged rocks and dense jungle along the way.
You can get on it only on a long tail boat, i.e. a wooden taxi - a boat or just a canoe.
Long tail boat - approx 400 One way BHT (you have to remember to make an appointment when to take us back, otherwise you will stay in this beautiful cove forever;))
Kayak rental :
for the whole day - 600 BHT
1 hour - 200 BHT