Why the Dalai Lama had to leave China?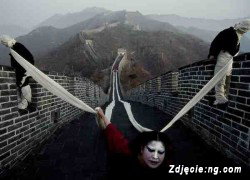 Do you want to know what power the Tai Shan Mountain hides?
What are sampans?
And why the Dalai Lama had to leave China?
I invite you to another trip with my blog to contemporary China.
What can Tai Shan mountain bestow on the most persistent?
Another interesting point of our journey through modern China is the Tai Shan mountain. Over the course of many centuries it has tried to conquer this mountain 72 cesarzy ale zyskało jej łaski zaledwie pięciu. Jest ona otulona licznymi świątyniami i pagodami.
Legend has it that whoever gets it, will live 100 years a złożeniem darów w jednej ze świątyń zapewni sobie równie długie szczęście.
This mountain is quite a challenge and requires good condition of all daredevils, ponieważ it leads to its very top 6600 steps o różnej nawierzchni i stromiźnie.
What the sampan is for?
To travel by sampan, you must go to the Yangtze River( depth 1500 meters) because that's where they still meet. Sampan jest flat bottom boat, którą ciągną na płytszych wodach kulisi. Jest ona wyposażona w trzy zapory, for the local sturgeons migrating to the South China Sea. However, not all fish are convinced of the validity of this idea, as evidenced by a disturbed cycle of their development and, consequently, depression.
Why the Dalai Lama had to leave China?
Choć nasza podróż wiedzie przez Chiny, it is also worth referring to the history of Tibet, i jego spiritual leader- Dalai Lama. Well, China left a painful stigma in this country and forced its leader the Dalai Lama in 1959 until leaving the Potala Palace. Od tej pory aż do dnia dzisiejszego przebywa on na wygnaniu w Indiach.
The reason for his departure was the usurpation of China to Tibetan land, which caused their assault in a year 1950 and irretrievable moral and cultural losses. Then in the years 1966-1976 an ongoing cultural revolution, w czasie której torn down until 6 tysięcy świątyń tybetańskich, valuable books and souvenirs!
However, despite such a terrible blow, this nation did not give up and tries to live normally.
When we make this place our destination, then we will surely meet many friendly and often smiling people. Some of the temples have been rebuilt, lecz nadal znajdują się one pod wnikliwym okiem bazującej tam armii chińskiej. He lives in Tibet 2,5 mln ludzi a together with the Dalai Lama had to leave him 100 thousands of other Tibetans. Outside the country in the nearby Sichuan provinces, Qinghai, Gansu and Yunnan live 4 million people.
Ambra
A teraz na kącik perfum pora a w nim podróże blog opowiedzą o…Ambrze( ambergis)- which has been used in the perfume industry. It has the form of an ash-colored wax- brown, and is a flammable substance. Produkowana jest w układzie trawiennym sperm whales z rodzaju waleni, and hence its excretion. Ambergris has an unpleasant odor just after production, but with time it takes on a sweet flavor. Przy tworzeniu perfum ambergris is used as a fragrance fixative, but nowadays it has been completely replaced by the use of chemical substitutes. Often the ambergris is replaced by a similar one- labdanum. Amber is found in large quantities in China, but it can also be found when traveling around Africa, Brazil and India.
Well, our trip to China is coming to an end, so it's time to say goodbye, but not for long! I cordially invite you to another meeting with my travel blog. Mogę zdradzić że będzie to opowieść o niezwykłej Dżoti z Indii.
Comment on the photo.
This photo shows the Wall of China, which is so popular with traveling tourists, who still has an irresistible charm. This time a theater group was honored to be there, which is wrapped in a white tablecloth, she wanted body pronunciation and gestures,
dać symbol solidarności na świecie i wzajemnej międzyludzkiej więzi
.